Do you want to get a feel for how the job fair works before the actual day? We think that's important, too! Here you'll find helpful information and steps you will take to connect to the job fair portal.
Tips before the Demonstration
If the Live Job Fair link opens in a non-supported browser like Safari or Internet Explorer, copy and paste the link in a Chrome browser window.
Alternatively, you can use the most recent versions of Microsoft Edge and Firefox browsers. Be sure you are using the latest version.
The browser may request permission to use your web cam and microphone. This is normal.
You will need to accept both web cam and microphone to enter the Live Job Fair.
When the job fair window connects, you will need to "show" or "hide" the keypad by clicking the icon in top-left corner of the mobile screen.
If you are on a slower wi-fi connection, the job fair may take a few extra seconds to load.
Keep in mind this is for demonstration purposes only. You will not use this link for scheduled job fairs.
Your web cam will be on, just as it will be on the day of a scheduled job fair. However you will not be recorded if you choose to leave a message.
Getting to know the Job Fair Portal
Steps to navigate the job fair platform
Visit the Live Interactive Demonstration (above)
Keep in mind this is only a demonstration. On the day of the job fair, you will visit employer portals and click on "connect with recruiters" buttons to interact with recruiters.
For Desktop/Laptop access, use the keypad to the right
After a welcome message, you will choose how to proceed. *Mobile users see instruction below.
For Mobile Device Users:
After a welcome message, you will need to click the keypad to icon to show the keypad and the menu icon to show the drop-down menu.
Left image: Mobile phone icons and keypad shown. Right: Mobile drop-down menu
Press 1 to Speak to a Recruiter
You will wait for the next available recruiter.
View how many job seekers are ahead of you in line in the message area
You can click

SHOW DICTATION

to view live transcription.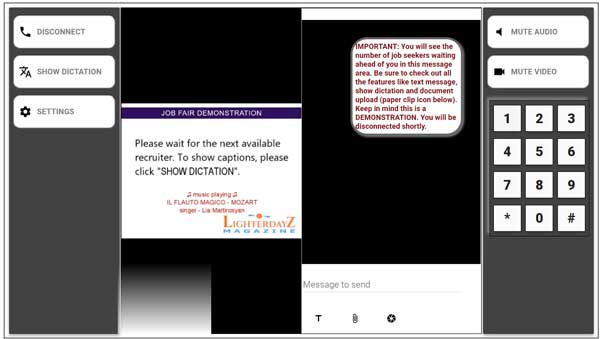 Press 2 to Request an ASL Interpreter
You will wait for the next available recruiter.
View how many job seekers are ahead of your in line.
You can click

SHOW DICTATION

to view live transcription.
The recruiter will request the ASL Interpreter after they meet you. You can use text messaging with the recruiter if there is a delay.
Press 3 to Leave a Video Message*
If you can't wait to speak with a recruiter, you can leave a video message. (You will not be recorded during the demonstration.)
You will have 3 minutes to leave a video message.
You choose when to begin recording.
Please provide your name so that the recruiter can locate your resume.
ASL videos are transcribed.
*If you have speech differences and need an accommodation for video messaging, please contact support@abilityjobfair.org.
Press 4 to Pause and Adjust Settings.
You can use this time to become familiar with the job fair platform features and practice turning features on and off. You can change the text messaging and transcription text size and color by clicking SETTINGS in the menu.
Disconnect
When you are finished speaking with the recruiter, you can click DISCONNECT in the menu or you can close the window.
If you want to speak with a different employer you will need to return the job fair page.
Try out the live Demonstration below to experience the platform.
If you can't access the Demonstration go to TROUBLE SHOOTING for different devices (iPad, iPhone, Mac, PC and smart devices).