Get to Know the New ABILITY Job Fair Portal
Meet our new "job seeker friendly" portal!  One-on-one video meetings with optional ASL interpreters. Follow the instructions and check out the new job fair portal platform below.
Items needed to connect to the portal
Destop/Laptop Computer, Tablet or Smart Phone

For the best experience, we recommend a device with a larger screen.

Chrome Browser

Other browsers are not supported.

Connected camera and microphone

Chrome will ask permission to use your camera and microphone. Both are required to use the portal.

Strong and consistent internet connection

A good internet signal is needed to maintain the connection with the portal.
Follow these steps for the demonstration
1. Click the Portal Entrance Button
This area can be found below. Keep in mind that login is required to use the demonstration. During the job fair, each employer has a similar portal entrance on their page.
2. Complete the Information Form and click "Join."
You can fill in any information you like. This information will be deleted. Note: All required fields, including resume, are required to connect. The form will let you into the waiting area.
3. Get to know the features in the waiting area.
Many tips and instructions can be found in the waiting area. Please be aware that this appears to be a live queue, but it is not a monitored or staffed area. No one will answer while you are there.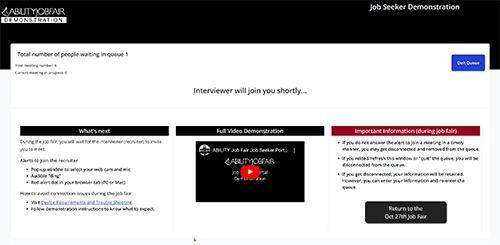 4. Watch the Video of a Recruiter Meeting
To get a feel for the full experience and even more tips on using the job fair portal, watch the full video while in the waiting area.
Job Fair Portal Demonstration
Click the button below to enter the portal demonstration area. (Login is required.) Be advised this is for informational purposes only. This is not a recruitment area.
You will need to enter "test" information in the form to proceed. Any information entered in this area will be deleted.