It starts with an insatiable curiosity about clients, colleagues, and the future. At Forrester, we believe curiosity powers progress. Forresterites bring a diversity of opinions and the courage of their convictions to collaborate on the ideas and initiatives that change the course of business. As a trusted advisor to the most influential companies in the world, we live at the nexus of what's next.
With Forrester, you perform at your very best, every day. With us, you drive growth and achieve more. With us, you can be bold at work.
Video: Forrester. Bold at work.
Sales professionals

Account Executives
Account Managers

Business Development Reps
Research Analysts
Consultants
SalesForce Developers
And more….
Cambridge, MA: Norwalk, CT; New York, NY; Nashville, TN; McLean, VA; Austin, TX; San Francisco, CA
Customer obsession is at the core of everything we do.
Research
For more than 35 years, Forrester's research has given global consumer business and technology leaders a clear vision to see what's now and what's next.
Consulting
Fueled by Forrester's customer-centric research and analytics, our seasoned consultants partner with clients to implement modern strategies.
events
Forrester experts bring research to life at our immersive events, offering inspirational content, deep-dive sessions, and high-caliber networking.
Passion. Integrity. Respect. Those are just some of the words employees use to describe Forrester's culture. We have a sense of humor and a sense of humanity.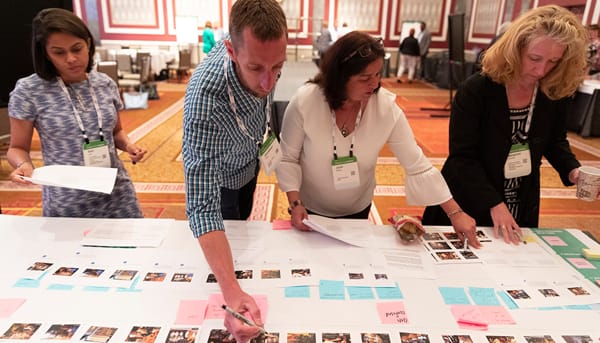 Forrester helps business and technology leaders use customer obsession to accelerate growth. That means empowering you to put the customer at the center of everything you do: your leadership, strategy, and operations. Becoming a customer-obsessed organization requires change — it requires being bold. We give business and technology leaders the confidence to put bold into action, shaping and guiding how to navigate today's unprecedented change in order to succeed