Federal Bureau
of Investigation
Our Vision: Ahead of the threat
Protect the American people and uphold the Constitution of the United States
To effectively accomplish our mission, the FBI needs people from different backgrounds, experiences and perspectives. The FBI values and leverages human differences, opinions and perspectives to empower our FBI community to achieve its greatest potential. The FBI's commitment to fostering diversity and inclusion is integrated into every facet of employment, including leadership and career development, recruitment, staffing, workforce planning and sustainability. At every level and in every position, the FBI embraces unique perspectives to accomplish its mission.
VIDEO: FBI JOBS - PART OF THE TEAM
The FBI's diversity initiatives also extend to persons with disabilities. The FBI has established a non-competitive appointing authority similar to the directive used in the competitive service under Schedule A (5 CFR 213.3102(u)) for persons with developmental disabilities, severe physical disabilities and/or psychiatric disabilities.
Supporting documentation for consideration under this authority may include a certification of job readiness (for consideration for permanent appointment) and proof of a qualifying disability issued from a licensed medical professional, a licensed vocational rehabilitation specialist or any federal or state agency.
An agency of the District of Columbia or a U.S. territory that issues or provides disability benefits may also certify the applicant as a person with a disability, describing the ability of the applicant to perform the essential duties of the position for which he or she is applying.
HIRING PEOPLE WITH DISABILITIES FOR
Honors Internship Program
STEM
Information Technology
Contract Linguists
Legal
Administrative
Along with our Headquarters in Washington, D.C., we have 56 field offices located in major cities throughout the U.S., and about 350 satellite offices called resident agencies in cities and towns across the nation.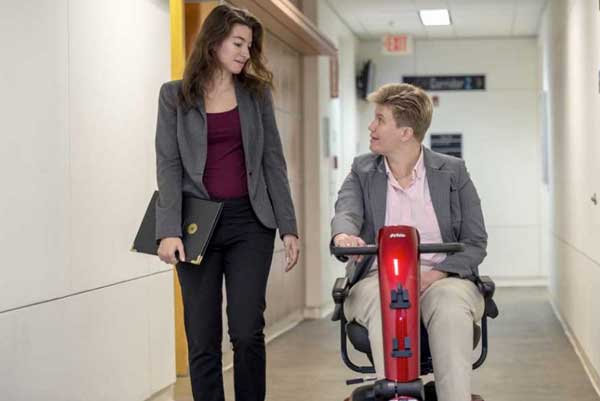 "Diversity is at the core of the FBI. When people look at us, they need to see themselves."
- Jeffrey Sallet, Associate Deputy Director, FBI
In addition to federal employee benefits, administrative, professional and technical position benefits also include:
Competitive starting salary
Low-cost life insurance
Individual or family membership in low-cost federal health benefit plans
Annual leave earned at the rate of 13 to 26 days per year, based on length of employment (prior federal civilian or military service is credited, as authorized)
Sick leave accumulated at the rate of 13 days per year without limit
Paid holidays
Comprehensive retirement benefits (retirement credit is granted for prior federal military or government service, as authorized)
Eligibility for participation in Flexible Spending Account Program (a tax-favored program offered to employees to pay for eligible out-of-pocket health care and dependent care expenses with pre-tax dollars)
The FBI helps protect you and your children, communities, businesses and institutions from the most dangerous threats domestically and internationally. We help defend and uphold our national security, physical and electronic infrastructures, and American democracy.
A career at the FBI provides the opportunity to work among the best. We seek those who will contribute to the operations of a global organization that aligns people, policies, processes, and systems to ensure the highest quality investigations.